VelocityLab can be used with PocketLab Voyager to turn to measure the position, velocity, and acceleration of a rotating object
What is VelocityLab
VelocityLab is a feature of PocketLab Notebook that works with PocketLab Voyager to measure the position, velocity, and acceleration of a rolling object like the wheel of a cart, the tire on a bike, or simply a can of soup.

Find some wheels and attach your PocketLab
You can use VelocityLab with anything that rolls. A can of soup works great. Attach your PocketLab Voyager, connect to the VelocityLab app, follow the prompts, and you're off.
Explore with VelocityLab
It's easiest to attach your PocketLab to the side of your wheels or soup can so that it rotates about the z-axis like shown in the diagram below.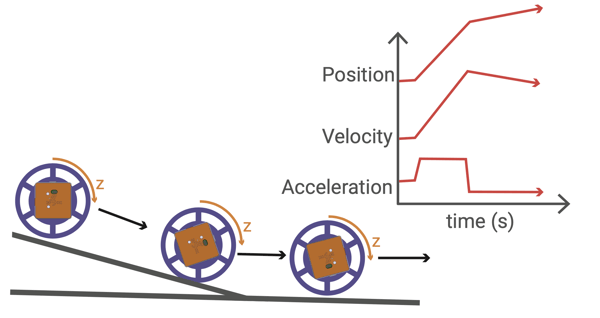 Roll the wheels or soup can down an incline. As they travel, you should observe an increase in velocity/positive acceleration caused by a net force from gravity. When the wheels reach the end of the ramp and travel on a flat surface, you should see a decrease in velocity/negative acceleration caused by a net force from friction.


VelocityLab on PocketLab Notebook
If you are using your PocketLab Voyager with Android, Chromebook, Windows 10, and Mac, you will find the VelocityLab feature on PocketLab Notebook.
Open a Chrome browser
Navigate to thepocketlab.com/app
Click "Start Collecting Data"
Instead of clicking "Connect a PocketLab", click the dropdown and "Use VelocityLab"
A connection window should appear - turn on your PocketLab
The name of your PocketLab should appear in the connection window - click on the name and click "Pair"
Follow the onscreen instructions to get your PocketLab Voyager set up with your rolling object to use VelocityLab
VelocityLab on iPhones and iPads
If you are using your PocketLab Voyager with an iPhone or iPad, VelocityLab is a separate app that you download from the Apple App Store.
Open the Apple App Store and search "VelocityLab"
Download the VelocityLab app by Myriad Sensors Inc.
Open the VelocityLab App and turn on your PocketLab Voyager
The app will automatically connect with your PocketLab Voyager
Follow the onscreen instructions to get your PocketLab Voyager set up with your rolling object to use VelocityLab