Using the floating toolbar in Notebook, you can add several different types of content cards to your Lab Reports.
This is the floating toolbar:
It moves as you scroll through your Lab Report so you can choose where to place content. In order, the following types of content can be added with the floating toolbar.
Collect Data
You can use Collect Data cards in a few ways, but you'll mostly be using them to connect your PocketLab sensor to collect data. You can also use your computer's or phone's built in sensors to record data like audio levels. With Import Data, you can import csv data files recorded with a PocketLab on another device, or recorded from a different type of sensor. Finally, you can use VelocityLab to measure the velocity, position, and acceleration of a rotating wheel with a PocketLab Voyager.
Text
Text cards can be added anywhere you or your students need text content. You can add background information, materials lists, procedures, formulas, link to external sources, or anything else you might need. Your students can use these to record observations or write conclusions.
Image
You can use an image card to upload photos from your computer, phone, or tablet to your Lab Report. You can also upload gifs that will auto-play as a loop.
YouTube
You can easily embed a YouTube video directly into your lab report. Just click the YouTube icon and copy and paste the video URL. This is great for showing examples of experiments or introducing phenomena or topics.
Data Analysis
You can use the Data Analysis button to add a Bar Graph or a Scatter Plot.
Note: If you (as a teacher) add a Bar Graph or Scatter Plot, your students will not be able to edit it. If you would like them to create one of these graphs in their assignment, they will have to add the Bar Graph or Scatter Plot to the Lab Report themselves.
Bar Graph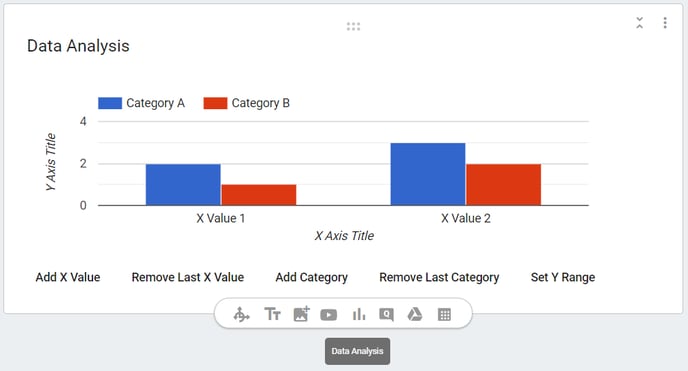 You or your students can add a bar graph to visualize and compare data. Bar graphs are generally used when there isn't continuity for the x variable, like significant changes in distances. You can click on a colored bar to change the value displayed. You can use the options at the bottom to add or remove groups on the x-axis, add or remove bars in the groups, and set the range of the y-axis.
Scatter Plot
You or your students can also add a scatter plot to visualize and compare data in another way. Scatter plots are best used when there is continuity for the x variable, like time in seconds. You can add or edit the values on the left, and navigate between data sets using the arrows in the top left. You can use the options on the bottom to add or remove rows of data, add or remove data sets, or set the y-axis range.
Question
You can add question cards that students can answer in their Lab Reports. Students can work in lab groups on the same Lab Report and each add their own answers.
Google Drive File
If you need to add another type of file (maybe a pdf or spreadsheet) to your Lab Report, you can add it using the following steps:
Upload your file to Google Drive
Click Share in Google Drive
Click the Get Link section
Set the permissions to Anyone with the link
Copy the link
Click Google Drive File in Notebook
Paste the link
Now your students will be able to download this file directly from their Lab Reports.
Data Table
You can add a data table to organize experimental results or other information. Use the plus and minus buttons on the right to add columns and on the bottom to add rows. You can give your students a structured table like this to record their results in, or have them make their own.