After assigning lessons you can easily navigate between student assignments and give feedback using the dashboard
After assigning a lesson in your classes page, the lesson will be marked as In Progress. You can click into the lesson to see the Assignment Dashboard.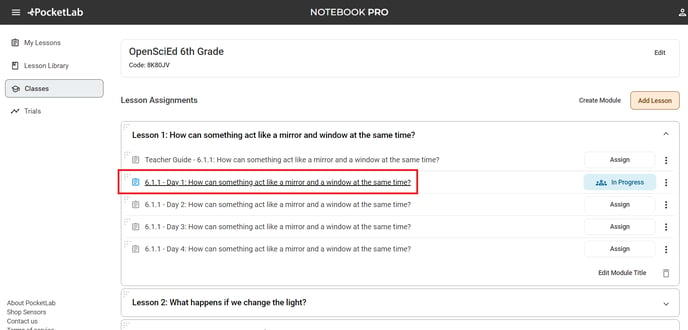 In the Assignment Dashboard, you can see which students have started the assignment and which cards students have made edits to. In the screenshot below, you can see that Albert, Katherine, and Marie have all opened the lesson. Thomas hasn't opened it yet. Albert and Katherine have made edits to the cards that are not grayed out. Clicking on any of the cards lets you see that student's work.

Once you're in an assignment you can see student's answers. Click on the student names in the top left or right to navigate to the next student.

Click the feedback tab in the bottom left to give students feedback. The quick feedback buttons let you give qualitative feedback easily.

After giving feedback, the dashboard icons will change color so you can easily see how student's are doing on an assignment. If you see a lot of green "Above and Beyonds" and blue "You Got Its" your class is doing great!