The specifications of the different sensors are listed, as well as the LED flashing codes
Voyager 2 Diagram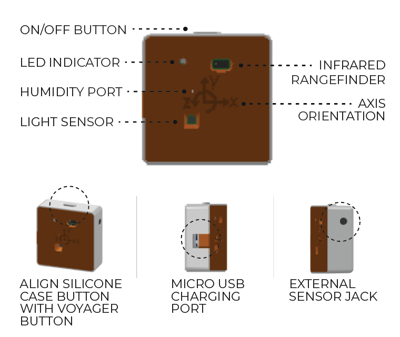 Led Flashing Codes

Battery Life and Charging
PocketLab Voyager 2's battery takes approximately 2 hours to fully charge and last about 20 hours of data collection time.
To charge the battery, connect a micro USB cable to the connector on the PocketLab. Plug the USB cable into a USB charger or computer port.
The LED will blink red every 10 seconds while charging.
Device Requirements
iOS

iPhone 4s and newer
iPads - all except iPad 1 and iPad 2
iPod Touch 5th gen and newer

PocketLab iOS app
Android

Android OS 5.0 and newer
Most phones and tablets made since 2014

Android native app and PocketLab Notebook (thepocketlab.com/notebook)
Windows 10

Built-in Bluetooth 4.2 required
Most Windows 10 devices made since 2014 are compatible.

PocketLab Notebook - Chrome browser (thepocketlab.com/notebook)
Mac OS

Built-in Bluetooth 4.2 required
Most Macs devices made since 2014 are compatible.

PocketLab Notebook - Chrome browser (thepocketlab.com/notebook)
Chromebooks

Built-in Bluetooth 4.2 required
Most Chromebooks devices made since 2014 are compatible.

PocketLab Notebook - Chrome browser (thepocketlab.com/notebook)
PocketLab Voyager Sensor Specifications
| | | | | |
| --- | --- | --- | --- | --- |
| Wireless Range | 45 m line-of-sight (150 ft) | | Memory | 60,000 data readings |
| Battery | Rechargeable via micro USB | | Durability | 2 m (6 ft) drop protection |
| Battery Life | 20 hrs | | Dimensions | 3.8 x 3.8 x 1.5 cm (1.5 x 1.5 x 0.6 in) |
| Wireless Range | 45 m line-of-sight (150 ft) | | Weight | 17 g (0.6 oz) |
Accelerometer
Barometric Pressure
Range
+/- 16 g
Range
30 - 1100 kPa

Resolution

0.008 g @ 94 Hz
Pressure Resolution
1.3 Pa
Data Rate

50 samples/sec (real-time)

250 samples/sec (crash-mode)

Absolute Accuracy
0.1 kPa
Gyroscope
Humidity
Range
+/- 2000 deg/sec
Range
0-100 %RH
Resolution
0.1 deg/sec @ 92 Hz
Resolution
1 %RH
Data Rate
50 samples/sec (real-time)
Absolute Accuracy
3 %RH
Magnetometer
Light
Range
+/- 4900 uT
Range
0.01 - 128,000 Lux
Resolution
0.15 uT
Spectrum
220 - 1000 nm
Data Rate
100 samples/sec
Data Rate
4000 samples/sec
Altitude
Ambient Temperature
Range
-5,300 - 9,500 m (-17,400 - 31,000 ft)
Range
-40 - 65 C (-40 - 150 F)
Resolution
11 cm (4 in)
Resolution
0.01 C (0.02 F)
Absolute Accuracy
10 m (33 ft)
Absolute Accuracy
0.5 C (0.9 F)
Data Rate
50 samples/sec
IR Rangefinder
Temperature Probe
Range
0.001 - 6m (0.04 - 20 ft)
Range
-40 - 105 C (-40 - 221 F)
Resolution
1 mm (0.04 in)
Resolution
0.2 C (0.4 F)
Absolute Accuracy
5% of reading
Accuracy
0.5 C (0.9 F)
Data Rate
33 samples/sec
Field of View
25 degrees
Compass
Range
360 degrees
Accuracy
+/- 1 degree
Data Rate
50 samples/sec