The specifications of the different sensors are listed, as well as diagrams of Weather and the LED flashing codes
PocketLab Weather Diagram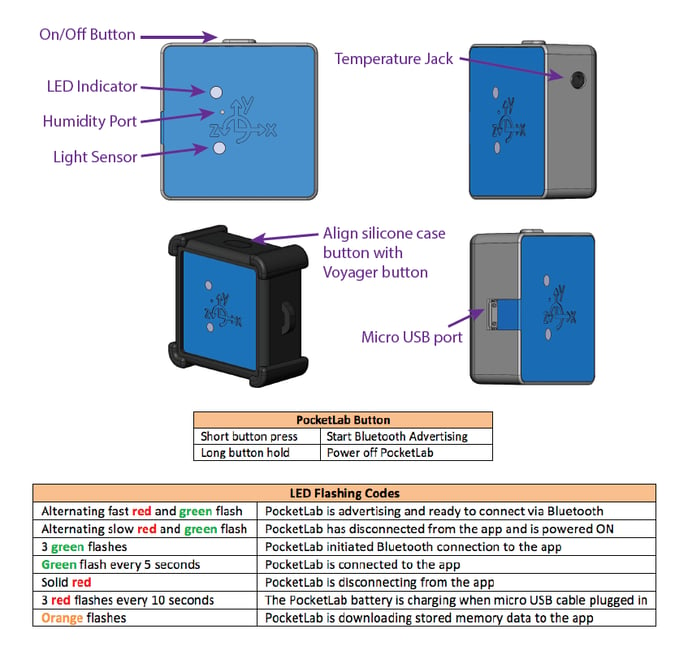 Battery Life and Charging
PocketLab Weather's battery takes approximately 20 minutes to full charge and lasts about 8-12 hours of data collection time.
To charge the battery, connect a micro USB cable to the connector on the PocketLab. Plug the USB cable into a USB charger or computer port.
The LED will blink red every 10 seconds while charging.
Device Requirements
OS

iPhone 4s and newer
iPads - all except iPad 1 and iPad 2
iPod Touch 5th gen and newer

PocketLab iOS app
Android

Android OS 5.0 and newer
Most phones and tablets made since 2013

PL One, Voyager, Weather - Android native app and PocketLab Notebook
PL Air - PocketLab Notebook - Chrome browser (thepocketlab.com/notebook)
Windows 10

Built-in Bluetooth 4.0 required
Most Windows 10 devices made since 2013 are compatible.

PocketLab Notebook - Chrome browser (thepocketlab.com/notebook)
Mac OS

Built-in Bluetooth 4.0 required
Most Macs devices made since 2013 are compatible.

PocketLab Notebook - Chrome browser (thepocketlab.com/notebook)
Chromebooks

Built-in Bluetooth 4.0 required
Most Chromebooks devices made since 2013 are compatible.

PocketLab Notebook - Chrome browser (thepocketlab.com/notebook)
PocketLab Weather Specifications
Wireless Range
75 m line-of-sight (250 ft)
Memory
30,000 data readings
Battery
Rechargeable via micro USB
Durability
2 m (6 ft) drop protection
Battery Life
8 hrs (wireless, full data rate)
12 hrs (low power, logging mode)
Dimensions
3.8 x 3.8 x 1.5 cm (1.5 x 1.5 x 0.6 in)
Wireless Range
75 m line-of-sight (250 ft)
Weight
17 g (0.6 oz)
Barometric Pressure
Humidity
Range
30 - 180 kPa
Range
0-100 %RH
Pressure Resolution
1.3 Pa
Resolution
0.02 %RH
Absolute Accuracy
0.1 kPa
Absolute Accuracy
3 %RH
Light
Ambient Temperature
Range
0.01 - 64,000 Lux
Range
-40 - 85 C (-40 - 185 F)
Spectrum
400 - 1000 nm (Visible light)
Resolution
0.01 C (0.02 F)
Data Rate
30 samples/sec
Absolute Accuracy
0.5 C (0.9 F)
Altitude
Temperature Probe
Range
-5,300 - 9,500 m (-17,400 - 31,000 ft)
Range
-40 - 105 C (-40 - 221 F)
Resolution
11 cm (4 in)
Resolution
0.2 C (0.4 F)
Absolute Accuracy
10 m (33 ft)
Accuracy
0.5 C (0.9 F)
Data Rate
50 samples/sec